G. Argy Rousseau Eagles Bowl
---
Measurements: 16 cm tall
Information: It is odd to see such a uniquely American bird depicted on a piece of French art glass. The large bird is an eagle. It is shown with its wings spread. The top of the bowl and the bottom of the foot both have a rim of red and blue flowers. The brown and dark colors don't work for some collectors, but the eagle theme could make it more attractive to the right person. This bowl was first sold in 1922.
Please remember that your specific piece of art glass could have different colors. The style could also be slightly different. No piece is going to be an exact match for every detail.
Looking To Sell?
We buy and appraise all G. Argy-Rousseau art glass vases, bowls, and boxes. Just send some pictures of what you have and we can respond back with the value and what we can offer for it. Try to include measurements if at all possible. We also provide information about auctions. Thanks, and we look forward to hearing from you.
---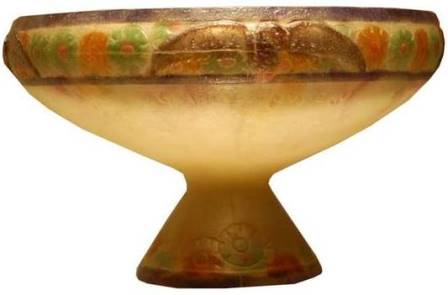 ---